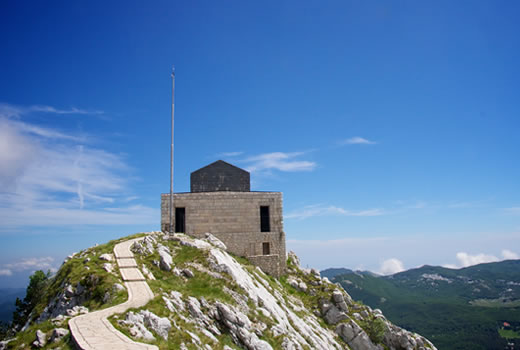 TRIPS THROUGH MONTENEGRO
All those who love nature, adventures, breathtaking landscapes, and those seeking knowledge, can join us and visit the most attractive sites of central and northern Montenegro. If you are interested in exploring religious and historical sites, we will take you to Ostrog, the biggest sanctuary in Montenegro, and the Mausoleum of the famous Montenegrin vladika (prince-bishop) and poet, Petar II Petrovic Njegos. To enjoy wild beauty, endemic species of fauna and flora come with us to Lovcen National Park, and Lake Skadar National Park. In addition, all those craving adrenaline should not miss rafting trip on Tara River.
Monastery Ostrog
Only less than two hours away from the sea, there is Ostrog Monastery, the most famous pilgrimage site in Montenegro, and one of the most frequently visited of the Balkans. It was built in the 17th century. Carved in steep cliffs (900 m above sea level) it is often hidden by clouds and fog. It was founded by Vasilije (Basil) the Metropolitan Bishop of Herzegovina, declared a saint (St. Basil), whose body is enshrined in a reliquary kept in one of the two small cave-chapels. Ostrog is visited by pilgrims of all confessions: Orthodox, Catholics and Muslims. A lot of people have told stories about the spiritual changes that happened in their lives after visiting the monastery. Yet many more claim that they were healed of physical diseases. The monastery complex consists of: Lower and Upper monastery with "konak" that offers overnight possibilities for visitors, There is a library, a newly built "ritual church", auxiliary buildings and classrooms for students of theological school.
Lovcen
Lovcen National Park is located in the southwest of Montenegro, it covers most of the mountain Lovcen, which is one of the symbols of the country, and it was declared a national park in 1952. The highest peak is called Stirovnik (1749 m). The top cultural monument in Lovcen National Park is the magnificent mausoleum (built from 1970 to 1974 and designed by the famous sculptor and architect Ivan Mestrovic) that sits at the top of its second-highest peak, Jezerski Vrh (1657m). To reach its entry where two granite giantesses guard the tomb of Montenegro's greatest hero you should take the 461 steps.  Not only the mausoleum itself, but also breathtaking views of pristine landscape spreading out below, rich calming scent of a variety of flora leave a fascinating impression on every visitor. This is what caused George Bernard Shaw to exclaim 'Am I in paradise or on the moon?'
Lake Skadar
Located in the southeast of Montenegro, in the heart of Lake Skadar National Park, there is the biggest lake in the Balkans, Lake Skadar. The southern and southwestern sides of the lake are rocky, barren and steep, with numerous coves, bays and peninsulas, and capes. The lake is a crypto-depression, filled by the river Moraca and drained into the Adriatic by the 41 km long Bojana. It is rich with flora and fauna, and represents the special nature reserve. It is a dream destination for birdwatchers, home to more than 250 species of birds, including the endangered Pelican. In addition to many Medieval Monasteries located on Skadar Lake such as Bogorodica Krajinska from 11th century, Starceva Gorica, St. Nicholas (Sv. Nikola), and many others, there are significant archaeological sites from Illyrian, Greek and Roman heritage. For all these qualities, Skadar Lake was proclaimed a national park in 1983, and it is included on the Ramsar List of Wetlands of International Importance.
Rafting on Tara
Rafting on Tara – The most beautiful way to test yourself and your adventure spirit will be to experience unforgettable moments of Tara River, an emerald green oasis of tranquility.
For centuries, this mountain beauty eroded limestone surface on its way, shaping numerous straits, massive obstacles and abysses. Included in the list of UNESCO's reserves, Tara River is called "The tear of Europe", because of its cleanness and stunning, wild beauty.

BOAT TRIPS
Come with us and discover the beauty of the Bay of Kotor.
There is no doubt that unique picturesque nature, turbulent history and delightful architecture of one of the 25 most beautiful bays in the world, listed in the World Heritage List of UNESCO, is most impressive when experienced at sea. Given the characteristic look of the bay it is often referred to as the southernmost fjord in Europe. It gives you an opportunity to enjoy its peace and tranquility while listening to the waves whispering tales of great rulers, royal families, famous captains and seamen of Boka. Since ancient times, it was an ideal shelter of many nations who have contributed to the establishment of cities, built their palaces, summer houses, churches, ports, and shipyards. Nestled between high mountains loomed over the narrow coast, it is safe from the cold climate coming from the north. That is why Boka is an oasis of Mediterranean vegetation. On the one hand, there is snow on mountain tops, on the other hand, roses, camellias and mimosas are blooming at the foot.
Let us briefly take you through the bay!
Starting from the very entrance to the Bay of Kotor, there is an island called Lastavica better known as Mamula, featuring a fortress built in 1850 that used to be a prison.
In the immediate vicinity there is a small cove called Dobrec, accessible only by boat, then the cove Zanjice, attractive resort with a beautiful sandy beach. It is an ideal place for swimming, sunbathing and entertainment.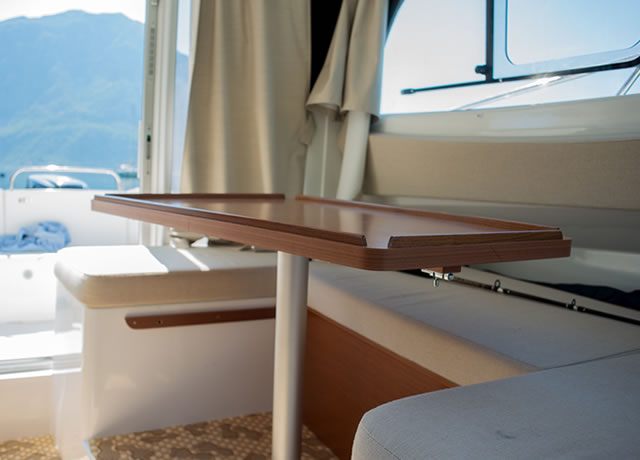 It is an ideal place for swimming, sunbathing and entertainment. The beach is approximately 300m long, made up of white pebbles and sheltered from the winds by the cape Arza, surrounded by natural shade of densely planted ancient olive trees. In addition, there is a magnificent cave called Plava spilja (Blue Cave), where the sea has deeply penetrated into the rocks. It was named after the enchanting blue color coming from reflection and refraction of the sunlight entering through a crack in the stone. Getting into the bay we come to Herceg Novi, the city of flowers, artists, and numerous stairs situated at the foot of the mountain Orjen. Dominating cultural monuments are the fortress Kanli Kula (meaning the "Bloody Tower" in Turkish), once a prison, and today a popular summer stage,  imposing fortresses Spanjola and Forte Mare,  and a large number of churches.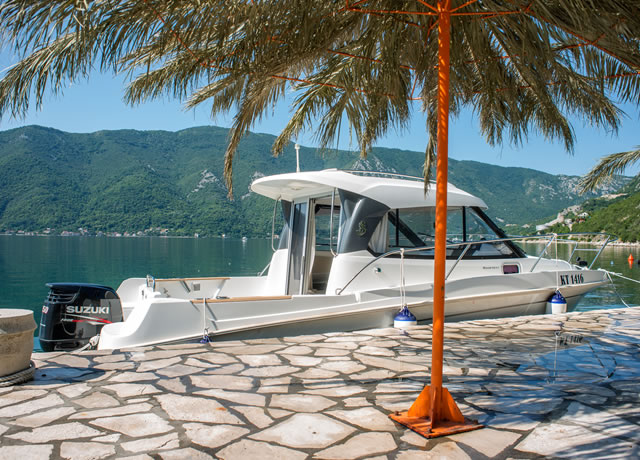 After a pleasant ride along the first part of the bay, we will arrive at the Verige Strait, the part of the bay that was pivotal in the Bay history, a narrow bottleneck allowing access to the port towns deeper inside the bay. Because of this strategic strait, which was easily controlled, the people living in the Bay were able to thrive and live peacefully. Moreover, on the inland side, the sheer mountains offered another form of natural protection. Nowadays, although not more than a quarter-mile wide, the strait is deep enough to allow passage to even the largest modern cruise ships.
Now, we are coming to the innermost part of the bay, where we will be welcomed by a baroque town of Perast and its two islands. Perast is a town of a glorious past, and it used to have its own fleet with about 100 ships. Today, this place is considered the largest monument of the bay completely made of stone with beautiful palaces and churches. It is particularly well known for its two islands: St. George, a natural island with a church of the same name, originating  from the 17th century, surrounded by cypress trees and cemetery for Perast sailors. Our Lady of the Rocks, an artificial island dedicated to the eponymous patron of seafarers in whose honor a visit to the island is organized every 22nd of July (traditional event – Fasinada).
The church stems from the XVII century, and its walls and ceiling are covered with 68 Biblical motives – paintings of Tripo Kokolja, one of the most known local baroque painters. You will be enchated by the church and its treasure both because of the incredible story of its origin, and the precious things that may be found inside.
At the heart of the bay and at the foot of the mountain Lovcen we arrive to Kotor, a city under the protection of UNESCO due to its rich cultural heritage. In addition, it is well-known as a center of transit tourism visited by a large number of cruise ships throughout the year. Its narrow streets, colorful buildings, squares, and small squares full life particularly characteristic of the old part of the town bounded by 5km long walls are a real attraction The dominant cathedral in the old town is the Cathedral of St. Tryphon (Sv. Tripun) with its two bell towers built in different styles, Baroque and Romanesque. In addition, there is the church of St. Nicholas (Sv. Nikola), and the church of St. Luke (Sv. Luka) with a beautiful iconostasis, Maritime Museum with a rich collection of ships, costumes and weapons, and much more to see. Further on, there is Tivat, a town of pleasant climate with many sunny days, rich vegetation, parks, gardens and vineyards. It used to be an important industrial city, and today it is a famous port in the Mediterranean with the first luxurious marina for mega yachts in the Adriatic Sea – Porto Montenegro. In addition to the marina, Porto Montenegro village includes luxury apartments and condos on the beach, restaurants with authentic dishes of various cuisines, cafes for nightlife lovers, and a great variety of sport, recreational and cultural activities and events. The two islands: Island of Flowers (Ostrvo cvijeca), and island St. Marco (Sveti Marko) with preserved untouched nature add to the beauty of Tivat as well. Use our expert knowledge of the sea to design your ideal bespoke tour and enjoy the utmost flexibility to suit your timetable, interests, preferences, and budget.

DIVING TRIPS
Dive underwater and dscover a fascinting world!
Come diving with us and explore the underwater world full of colours, shapes and creatures, discover new places, and experience new sensations. Diving to the archaeological sites, historic shipwrecks, and reefs enables you to get up close and personal with a quite different world, feel a spirit of ancient times, and uncover the mysteries of local caves. Explore beauties of vibrant undersea gardens, connect with nature, restore your energy and awaken your feelings, and have an unforgettable experience that will stay with you forever. Dive with reputable local guides, and get the most from your trip by visiting the following diving hot spots: the ship Tihany, Poseidon city, patrol boat, Blue Cave, as well as many other mysterious and magical sites.
Our offer involves:
Intro dive
Trial scuba diving is an introductory diving programme suitable for all beginners, and those who want to try diving.It involves theoretical part and a dive in the sea with a professional diving instructor.
CMAS course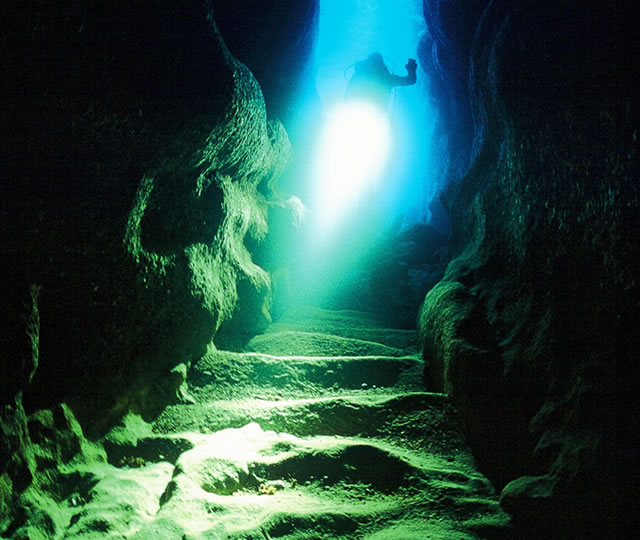 TRADITIONAL MEDITERRANEAN CUISINE
Upon an active day at sea, the early evening is an excellent opportunity for you to relax on the terrace of Stella del Mare enjoying a beautiful sea view, good company and delicious food. You may select your preferred meal from a wide range of freshly caught seafood specialties, prepared for you by your hosts with a special care and using traditional local recipes.
Our culinary treats including fresh shellfish, crabs and fish will be delivered directly from the sea to your plate. It is often highlighted by our gastronomists that a meal cannot be perfect if not complemented by a fine wine. Therefore, there is an old saying frequently mentioned in the coastal area, which goes like this: Every fish should swim three times: first in the sea, then in olive oil, and finally in wine. This is what our visitors have an opportunity to confirm right on the spot.